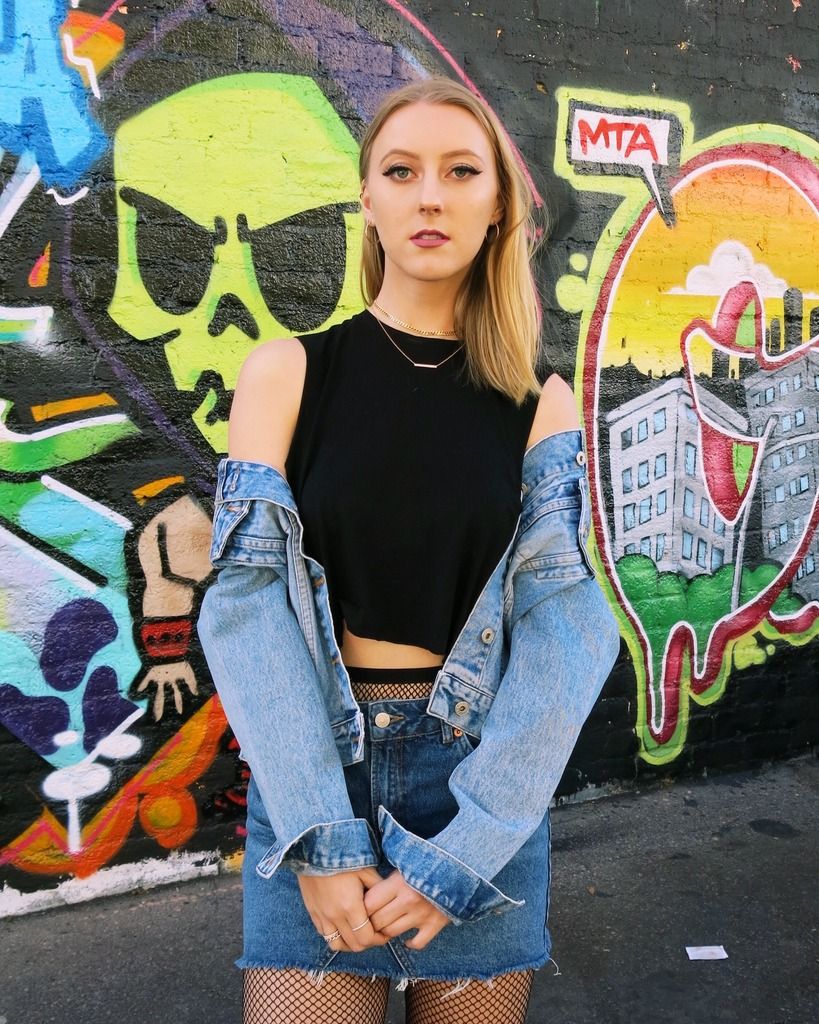 OUTFIT:
VENTRONE CHRONICLES Choker
WEARMEPRO Sunglasses
VINTAGE Denim Jacket
ALL SAINTS Top
AMAZON Fishnets
TOPSHOP Denim Skirt
VANS Sneakers
This outfit was super fun to style. I always love a good denim on denim look. I find if you're going to go bold with something like denim, keep the rest of your outfit low-key. I wore a simple AllSaints black top with black fishnets to keep the look edgy. Let's talk about this fishnet trend though... Am I the only one who thinks it works sometimes. I've seen people style fishnets with a look that just doesn't go. I feel the only way to really pull off fishnets is with a grungy outfit. Not preppy it just doesn't make sense. Kind of ruins a really good trend when you don't do it the right way. My rule for wearing fishnets is indeed only paired with denim, silk, or velvet and keeping your outfits simple. Let the fishnets be the main focus. Look at it this way... fishnets were a 90's trend for a reason... So try styling fishnets with similar trends from that era. Of course, you can always update the look. I kept the look cohesive with my vans sneakers. These sneakers are probably one of the few classic sneakers anyone can pull off. If you feel like making a fashion statement effortlessly, pick up a pair of vans. You can literally wear them with anything. Lastly, I kept with the layered theme by over accessorizing. I'm usually always one to have a few earrings in and rings on, but complete jewelry on me is rare. I styled my Ventrone Chronicles choker with my pave diamond bar necklace and added stacked rings to tie it all together. I don't know what it is about these monochromatic outfits lately. I feel as if you can have so much more fun with the aesthetics behind the clothes.