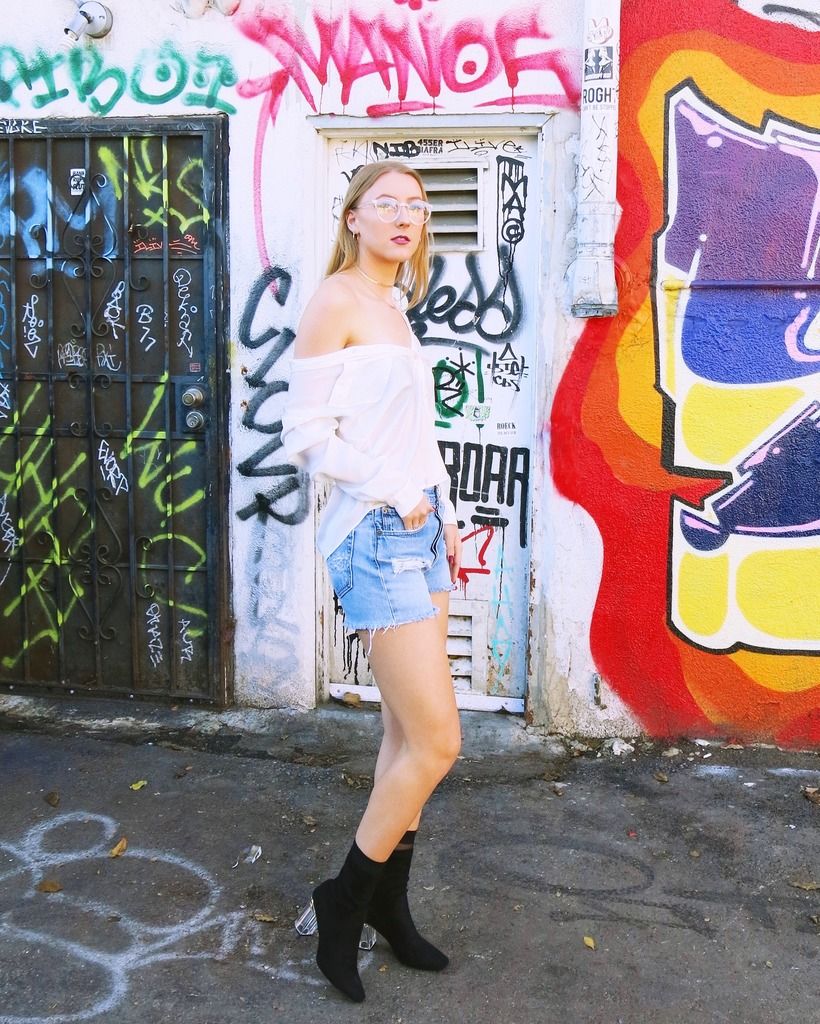 OUTFIT:
WEARMEPRO
Sunglasses
TROUVE
Blouse
LEVI
Shorts
PUBLIC DESIRE
Boots
VENTRONE CHRONICLES Choker
Sometimes I put the most random shit together. I know this outfit is simple, but the mix between silk, denim and suede makes it a little more interesting. I picked out these
WearMePro sunglasses
and I'm kind of obsessed. Sunglasses don't always look the best on me, but I like these because they're fun. WearMePro is a monthly subscription box that gives you three pairs of sunglasses each month. If you are a fan of sunglasses that are inexpensive, but made well, then check them out. They have every style from trendy to classic. This is definitely a look that not everyone would wear. I accessorized with my favorite jewelry I've been wearing lately. I layered my
Ventrone Chronicles
necklace with my new diamond bar necklace and solid gold hoops I picked up last weekend. This is what I've been on lately, layered jewelry and simple assembles. The uhhh I can still look cute without the "I try too hard look". These
Public Desire 'Chloe' boots
have been my go to for winter outfits lately. I love that they make my ankles look even smaller. Is that weird?!? I know it's winter and y'all thinking what she doin' wearing shorts. WELL... there is a reason California is becoming overpopulated because people are sick of the harsh winters in the rest of the country. Shorts are definitely still wearable in the winter. Add a pair of tights for a more layered look.
SHOP THIS LOOK:
One thing I do love about my city is the endless places to shoot. I hadn't been to Melrose in a while, mainly do to the overhyped kids that roam the streets out of boredom. But, I knew Melrose had some cool places to shoot with endless walls of street art and murals. Always bring yourself to a creative culture to bring out the creativity in yourself.