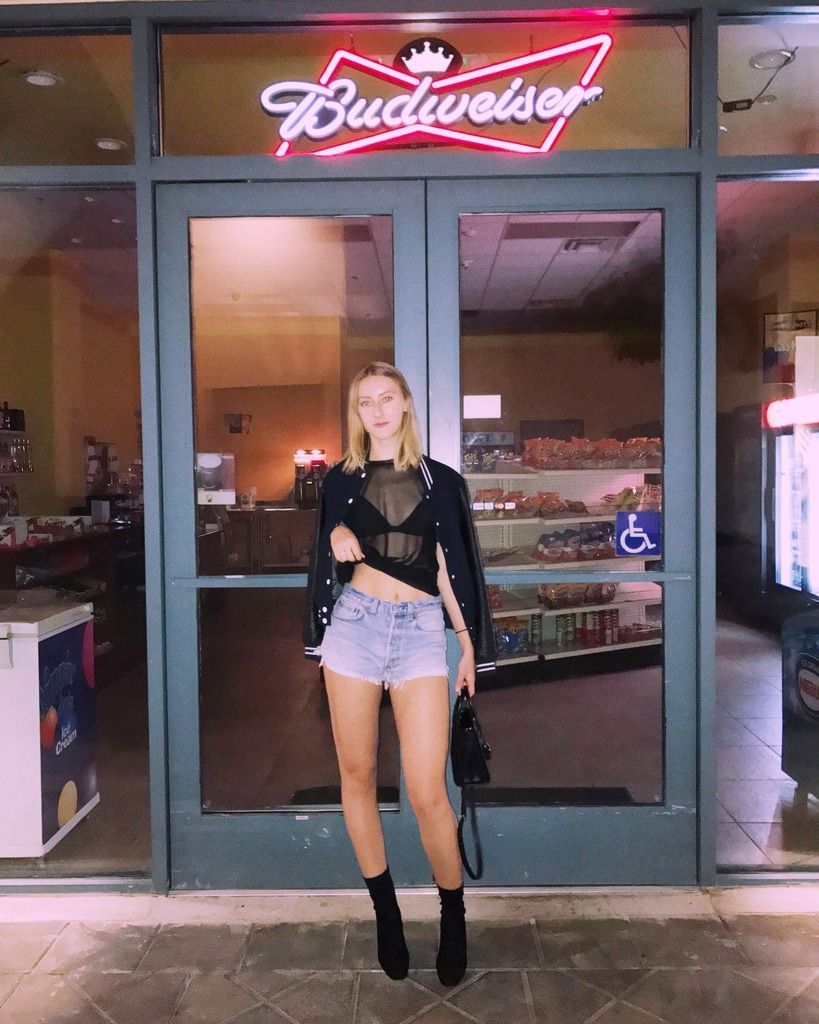 OUTFIT:
URBAN OUTFITTERS Mesh Shirt
URBAN OUTFITTERS Bralette
FOREVER 21 Baseball Jacket
LEVI'S Shorts
PUBLIC DESIRE Sock Boots
SAINT LAURENT
Bag
This outfit is everything. I love a good play on layers. I have been looking for the perfect mesh shirt for the longest time! With it being Fall I knew I would be able to find something. I had stopped by
American Apparel
after seeing a mesh turtleneck bodysuit off of their Instagram, but they didn't have it in my size so I went to Urban Outfitters. I definitely lucked out there. Urban had exactly what I was looking for. I didn't want any fancy overcomplicated design... Just give me some mesh! I also picked up a simple bralette from
Urban Outfitters
as well for $9 (on sale). I think these two pieces go great together. My justification for buying more black clothes is always the same. As long as the piece is in a different material or style then you can buy it. I wore my vintage denim
Levi
shorts. These are seriously my go to for a casual outfit. I picked these up off Melrose a while back. Melrose is a great place to find cheap vintage, not the overhyped
RE/DONE Denim
bullshit. My favorite part of this outfit is probably my
Public Desire
sock boots with perspex heels. I love the sock boot trend. These boots make my ankles look really slimming. Lately, I've been finding really great finds that are extremely affordable. I'm definitely off this "I need to wear all designer" fad I used to be into a few years back. I more like to accessorize with investment pieces. I feel like there are a lot more fashion brands out there that are making affordable and quality fashion these days.