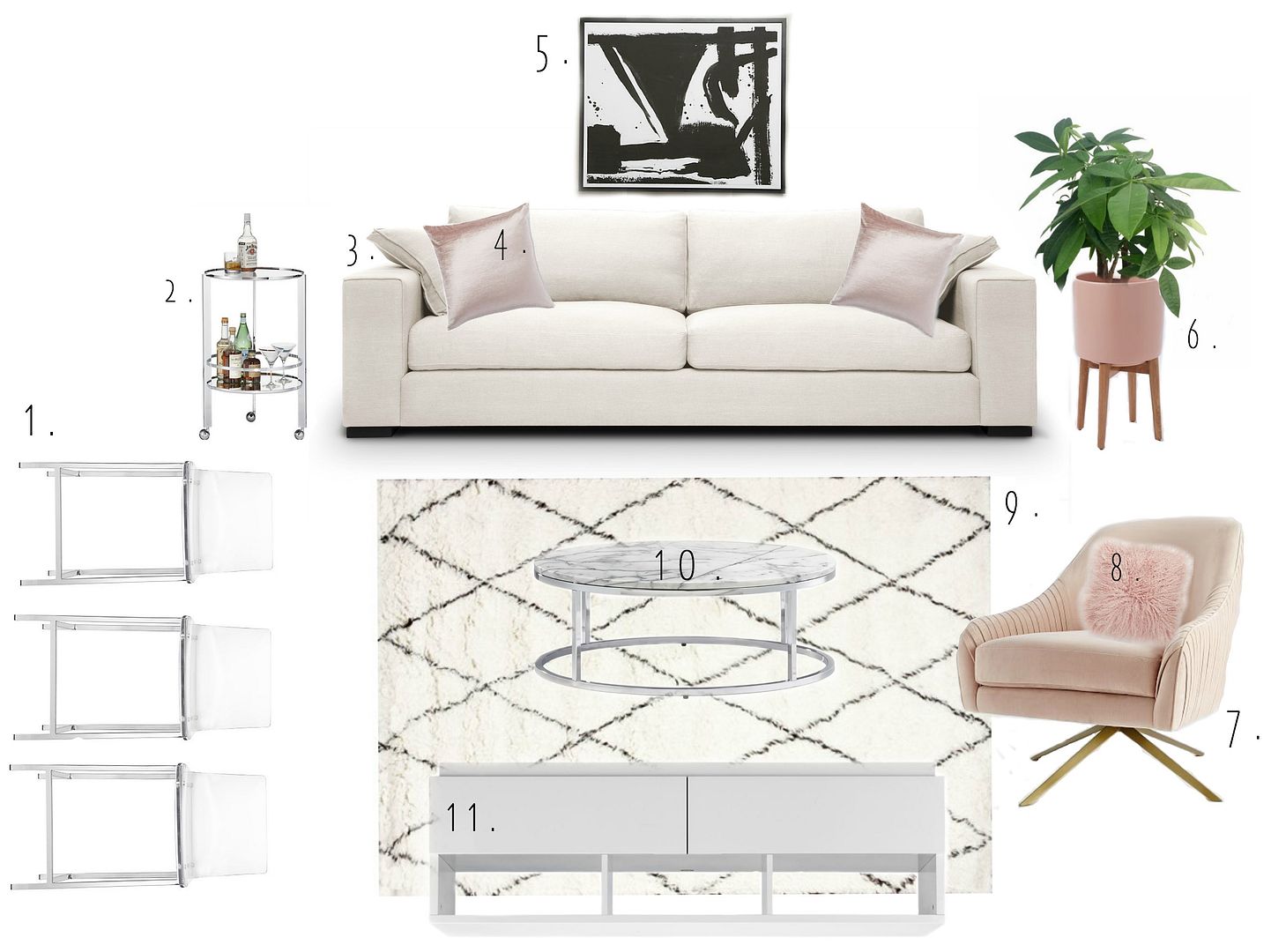 Here is my design board for my living room. I wanted to keep it very contemporary but soften it with accents and accessories like velvet and fur.
1.
CB2 Vapor 24" Acrylic Counter Stool
I am in very happy with these counter stools I recently received. If you don't know me by now, then you should know I love anything acrylic. These are the perfect amount of modern style to add to my kitchen. These stools keep the mood fresh and updated.
2.
CB2 Ernest Chrome Bar Cart
For some reason I have always wanted my own bar cart. I feel it adds some sophistication to the room. I feel like such a grown up now. I can't wait to start entertaining in my new home.
3.
SITKA Quartz White Sofa
There are so many choices when it comes to sofas, almost too many... But I found this one at a nice price point and it has the overall look that I want. I really like deep sofas for lounging but this one has both style and comfortability.
4.
WEST ELM
Cotton Luster Velvet Pillow Cover - Dusty Blush
Velvet is my favorite material in general. I love wearing it but I also like living with it. I thought these accent pillows would be the perfect pop of color to add to my neutral sofa.
5.
ANTHROPOLOGIE Bold Abstraction Wall Art
I am very picky with my wall art. I normally gravitate towards photograph prints or abstract acrylic art. I found this one off of Anthropologie. It is exactly what I have been looking for.
6.
WEST ELM Mid-Century Turned Leg Standing Planters - Rose
I feel like plants are the best way to complete a room. Continuing with my rose blush color theme, I thought this planter would be perfect for the corner to add a bit of color and texture.
7.
WEST ELM Roar + Rabbit Swivel Chair
This is my favorite piece I picked out. I have yet to order it due to the hefty price tag for a chair but I think it would be the perfect accent chair to the rest of the space. Lately I have been obsessed with this dusty blush color. This is the one color I plan to incorporate into my neutral color palette. I really love the swivel design, almost an updated 70's look to it.
8.
WEST ELM Mongolian Lamb Pillow Cover - Rosette
I thought this would be a cute accent pillow to add to my velvet swivel chair. I feel a bit of texture softens the space.
9.
RUGS USA Tuscan Morrocan Shag Rug
I never thought I would ever purchase a Moroccan rug. I thought my style was so far from this but it's funny how you style matures or changes over the years. Looking at hundreds of photos definitely helped in my decision. I also like that the pattern adds a little depth to the space to break it up.
10.
CB2 Smart Round Marble Top Coffee Table
Marble is one of my favorite rock to use when it comes to interior design. Maybe the fact that my favorite color is a bluish-grey might be the reason. Marble is so beautiful and has a luxurious feel. I think this table is also the perfect size for small spaces.
11.
CB2 Chill White Media Console
I wanted a low and modern media stand to make the space feel more open. With my TV hanging on the wall, this media stand compliments the space so well. It is extremely high quality with the nicest glossy finish. I also like that there is multiple storage and places to display my favorite decorative objects.