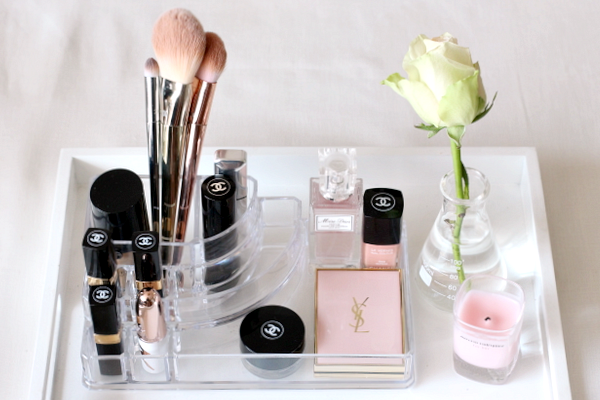 Here is how you can create the most luxurious vanity setup.
First. You'll need these items:
1. Candles
2. Tray
3. Perfume/Makeup (ideally beautiful packaging)
4. Mirror
5. Muji Acrylic Makeup Box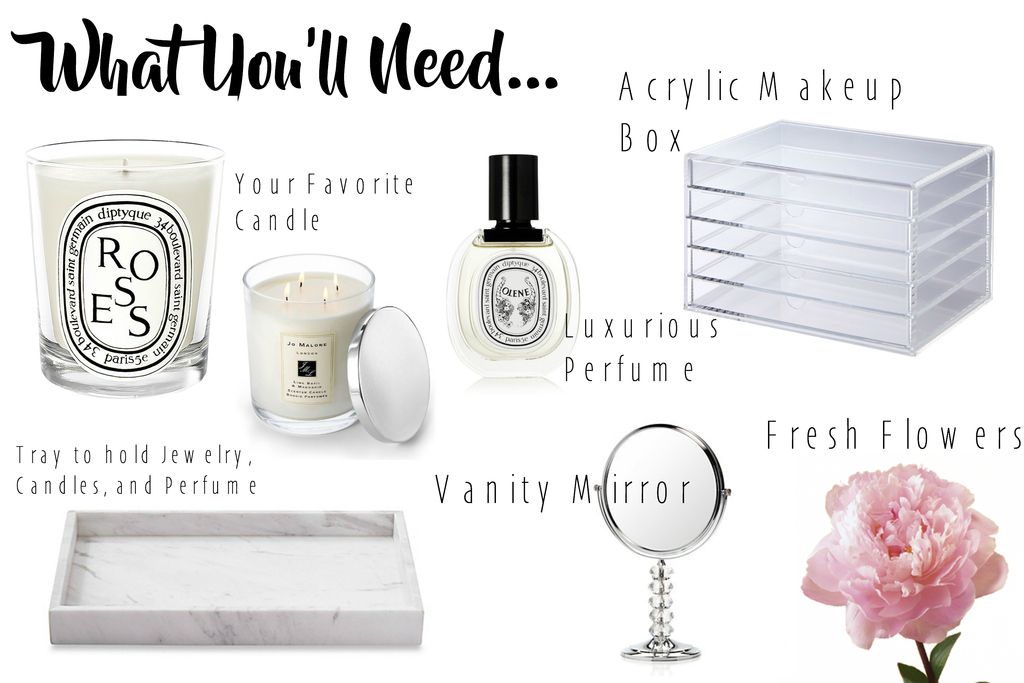 Here's How To Do It
I am a sucker for beautiful decor, especially one that includes luxurious candles and marble trays. The key to the perfect vanity setup is less is more. Clutter is not cute and it comes off as a hot mess. Pick up a candle or two of your favorite candles. And I don't mean just any candle, but a special luxurious candle you can burn all year long. My favorite candles are Voluspa, Diptyque, and Jo Malone. Don't let the price tag scare you. These have longer burning time than the average candle with 100x better smell! Same thing goes for makeup and perfume. If you are going for that luxurious vanity look, packaging is key. A few fancy makeup items will stand as the highlight of your vanity (on display). All your other makeup can go in your acrylic makeup box!


Now that you have your beauty items, displaying them on an elegant tray is a great way to achieve a luxurious and organized look. I am a slight obsessor when it comes to anything marble. I'm talking marble counter tops in every part of my house. Anyways there are so many options when it comes to trays. Materials such as marble, acrylic, glass and mirrored are a few.


Let's talk about this
acrylic makeup box
. I just purchased myself a
Muji Acrylic Makeup Box
. I picked up the five drawer case but they also offer other sizes to fit your needs. Investing in very minimal and clean lined makeup box makes all the difference when displaying your makeup. Plus, you will be more organized.
A vanity mirror is another great way to provide functionality and elegance when getting ready. A small mirror for the countertop is ideal. Ikea, Z-Gallerie and Bed Bath and Beyond are retail stores that offer small mirrors. Lastly, fresh flowers are another great feature to display on your vanity. Choose your favorite flowers and put them in a clear vase or old candle jar. I like to use fresh roses, hydrangeas or peonies.


And... there you have it. Six simple ways you can elevate your vanity to the next level.