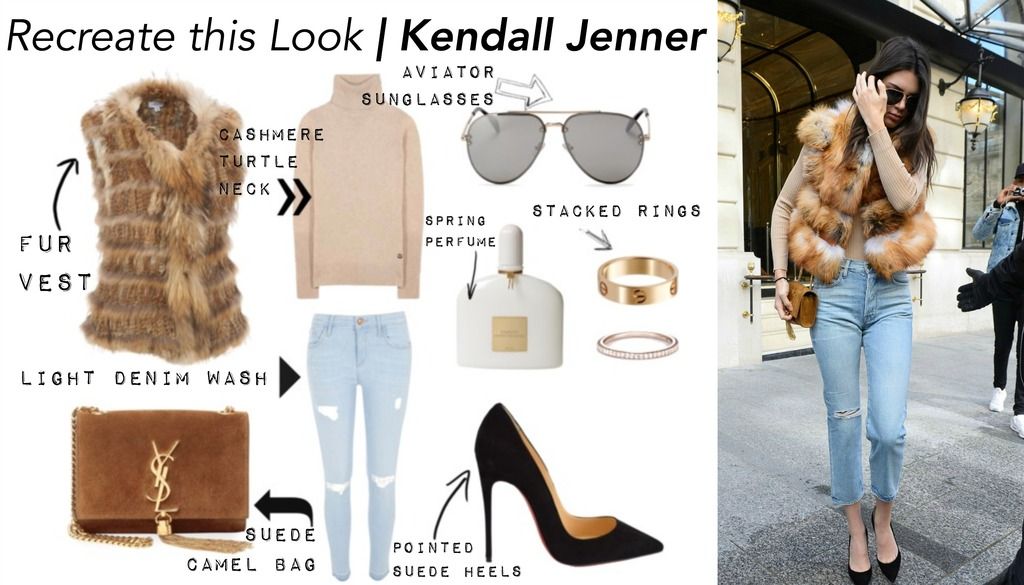 Outfit: I am obsessed with this look. I think the color combination and textures are what get me the most. I love a nice light wash denim with rich shades of camel and browns. I am definitely going to try to recreate this look for Spring.
1. Fur Vest - Love the textures of a good fur vest. Whether you support fur or faux fur, both can do that job in this look.
2. Suede Camel Bag - A suede bag ties in perfectly with the browns in her vest and the textures of the heels.
3. Cashmere Turtle Neck - Sophistication is added with a turtle neck sweater.
4. Light Denim Wash - A nice light wash pair of denim really brings the Spring season full circle. It also lightens up the outfit adding a nice contrast between the textures and neutral brown shades.
5. Aviator Sunglesses - Adds a coolness factor to complete the look.
6. Spring Perfume - One of my favorite Spring perfumes happens to be the "white patchouli" by Tom Ford. Tom Ford makes excellent perfumes that last all day.
7. Pointed Suede Heels - There is nothing like a pair of pointed suede heels. They look so good with jeans I'm telling you!
8. Stacked Rings - Finish off the look with some stacked gold jewelry to tie in the hardware from the gold suede bag.