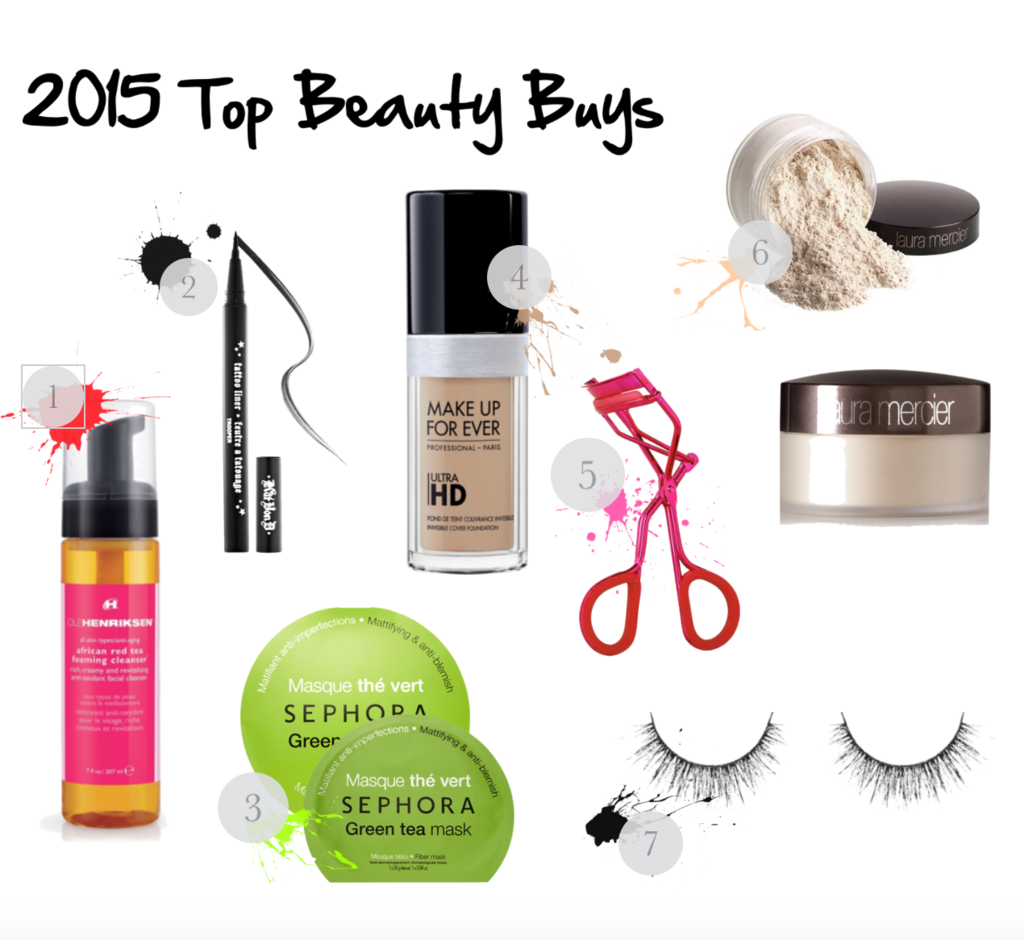 My top beauty buys of 2015. These seven items are my ride or die products at the moment.
1. Ole Henriksen African Red Tea Foaming Cleanser | I cannot rave enough about this cleanser. Leaves your skin refreshed and smelling good. Helps with troubled skin!
2. Kat Von D Liquid Liner | My favorite liner. Has the right control to create the perfect wing. Long lasting and non-smudging
3. Sephora Green Tea Mask | If I am in a hurry and need to quickly refresh my face before I go out this does the trick. Super cooling, evens out your skin tone, and perfects any imperfections
4. Make Up For Ever HD Foundation | I haven't changed my foundation in a while... so that's saying something. I have used this for over two years. Gives me the coverage I need and blends nicely with my natural oils
5. Sephora Eyelash Curler | Before I purchased myself an eyelash curler I didn't really see the point of it. Was it really worth an extra step in my makeup routine? Well let me tell you... YES! Curling your eyelashes can make all the difference in opening up your eyes. Especially if you don't care to put on fake lashes everyday. Some days I leave the house just with my lashes curled and mascara and it does wonders to my face
6. Laura Mercier Translucent Setting Powder | This stuff is magic. I was scared to try this out because of the steep price point... and I had no idea what I was suppose to do with it. But once I figured it out... this stuff is amazing. Completely takes your makeup to a whole other level. Basically your skin is a porcelain doll. Don't take my word? Try it.
7. Lashes | I usually buy the same Sephora lashes in "Hipster". They are super wispy, long and sexy. I seriously love lashes. Now that I've got the applying lashes with weird glue down... I feel like I can do anything. Seriously. Practice makes perfect.