Fall | Closet Essentials + Video
9:30:00 AM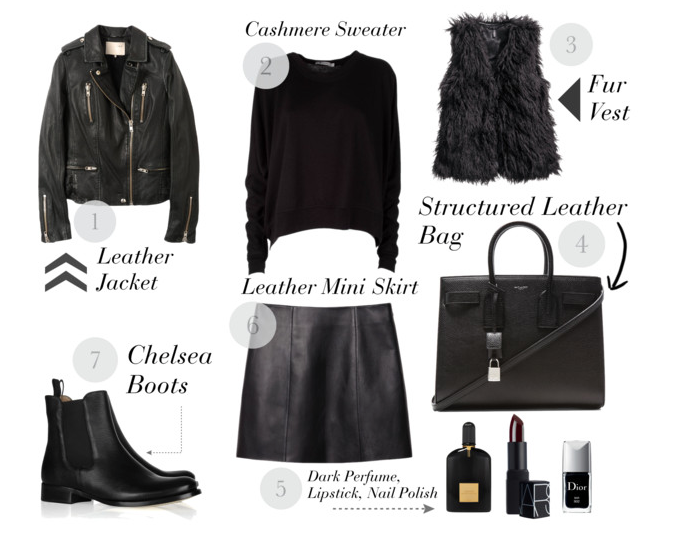 Left to Right:
IRO Paris Leather Jacket
Alexander Wang Cropped Cashmere Sweater
H&M Black Faux Fur Vest
Jil Sanders Chelsea Boots
Alexander Wang Leather Mini Skirt
Saint Laurent Sac De Jour Bag
Tom Ford "Black Orchid" Perfume
Nars "Fast Ride" Lipstick
Dior "Vernis" Nail Polish

Hey guys, Today I am sharing my must have closet essentials for Fall. So you might notice every clothing piece is black but I didn't do it on purpose. I am focusing more on the silhouette of all these pieces. Every single piece I have hand picked can be worn in another Fall color. Moving on... lets start with leather jackets. If you are like me.... then you would understand and know the importance of investing in a leather jacket. Hands down the best thing you can buy yourself this Fall. Don't go looking to cut corners when buying a leather jacket. Just go for it and spend the money to buy something that will last you a lifetime. Next to the obvious leather jacket, try finding a classic cashmere sweater. Sweaters during the Fall, are great basics to have. Next, try finding a fur vest. You might think fur is trendy but when the trend comes back every year... is it really a trend anymore? Fur vest add a chic look to a basic t-shirt/jean outfit. Now for skirts, try a simple leather skirt to wear with your new sweater. If you don't have a structured black leather bag then we seriously need to talk. You can not go wrong with a structured bag. I chose this Saint Laurent bag because of it's nice shape and fine details. And have you seen this bag in maroon and purple.... seriously can't stop thinking about this bag! Moving on to shoes. I choose these Chelsea boots by Jil Sander because I really like the height of these shoes. The heal is low enough to ensure maximum comfort... which means you can wear them everyday. And the equestrian style of these boots remind me of when I rode horses back in the day. Now to finish off your closet essentials, a part from picking up a silk or wool scarf and a cashmere beanie to keep your head warm... try finding a warm musky scent, I like this one from Tom Ford, a dark red lipstick, and a dark grey, maroon, and taupe nail polish. There are a ton of other Fall essentials I could add but these are the best pieces to build your Fall wardrobe.