Quick + Easy Room Updates
8:30:00 AM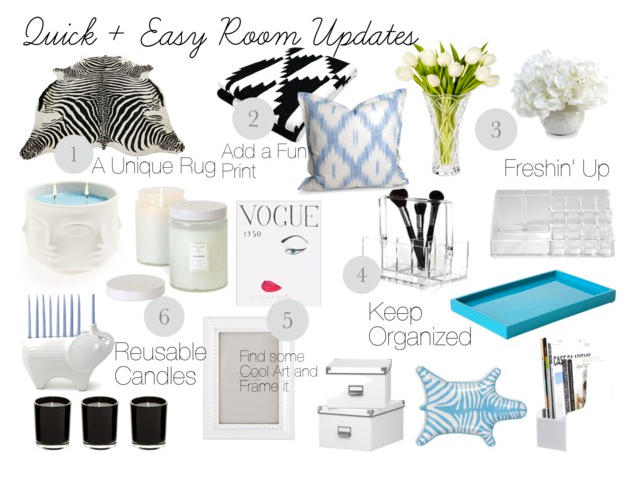 The best time to redecorate your room is when you have a ton of free time. However when are we ever free. I am certainly too busy to do an HGTV redesign. So what do you do? You clean out your decor accessories leaving you with the basics; furniture, light fixtures, and so on. Here are six quick + easy updates that won't break the bank.
1. Rugs
First, a new rug can change an entire room. If you have hardwood floors (sadly I do not) take advantage of them and add a nice looking rug. And I don't mean a boring old white/beige rug. Come on... if you want to improve your design skills, you have to practice and apply. I especially love the look of cowhide under a vintage looking sofa. But if cowhide is not your taste, try an IKAT patterned or striped rug for some added depth.
2. Accent Pillows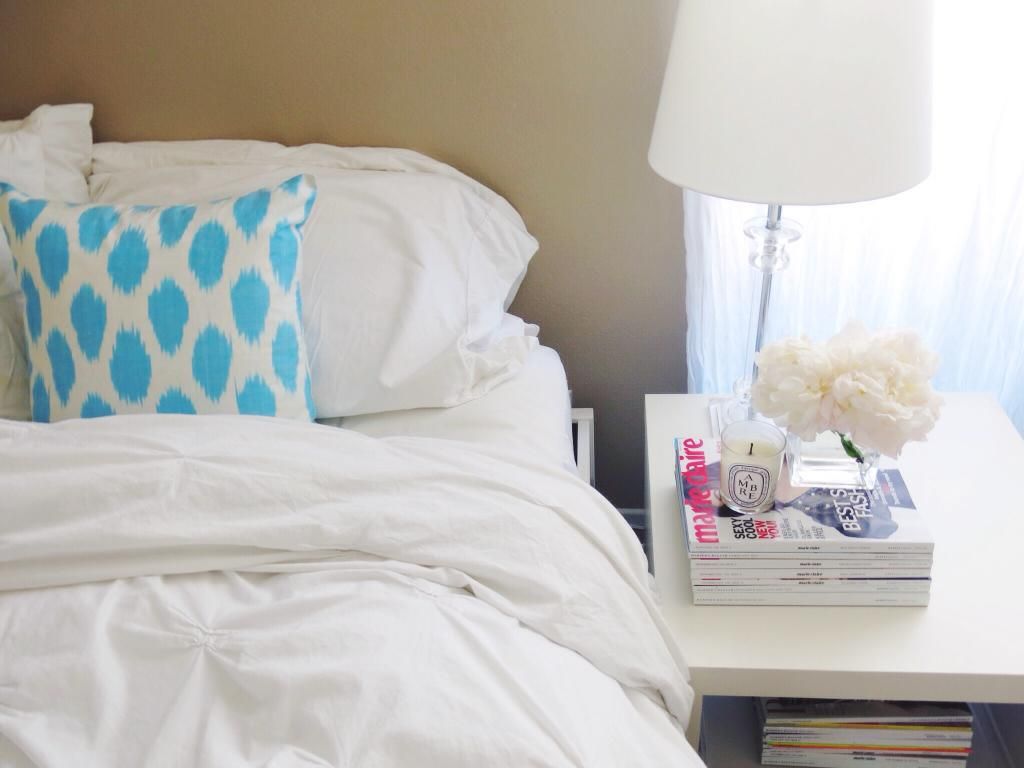 I can't stress it enough to add some prints to your life. You will thank me later... Most of us have basic white duvet covers. Adding an interesting print will be a game changer to your room. You can add similar color decor. Zinc Door and Furbish Studio have an amazing selection of printed everything.
3. Fresh Flowers
I know fresh flowers are a luxury... but on those special occasions pick up some fresh roses/hydrangeas/tulips. It really makes a big difference and adds a little bit of color.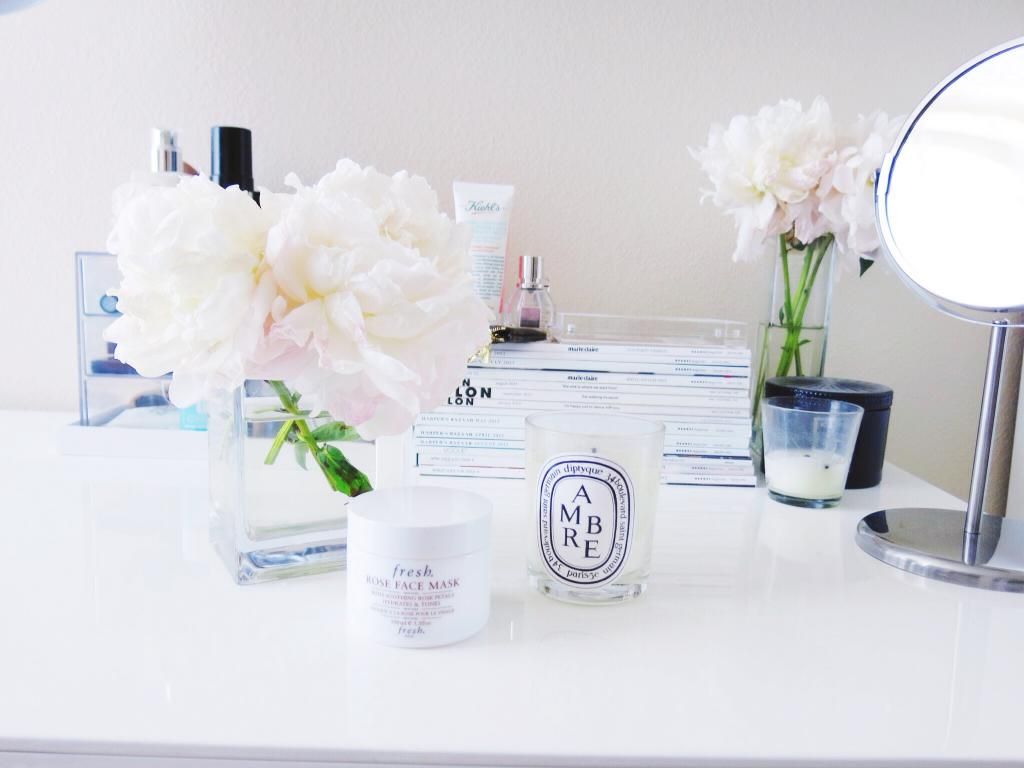 4. Get Organized
I don't know about you, but I am an organized freak. I actually enjoy organizing my stuff. Though my life is not as organized you better believe my room is. Look for acrylic trays (from The Container Store) for makeup or desk items, printed dishes (for jewelry), boxes (from IKEA) for extra storage.
5. Art
I am having the hardest time finding art I like for my room so what do I do... I cut out magazine clippings and put it in a frame. Simple, easy, cheap and effective my friends... If you are looking for eclectic art check out Z-Gallerie.
6. Reusable Candles
Lastly candles. Probably my top 5 obsessions next to handbags and shoes... I struggle with using up my candles. I want to enjoy them burning but then I use them up you see the dilemma. I tend to splurge on candles between $30-$60 which is ridiculous I can admit! But the burning time last a lot longer than cheaper candles and I like that I can reuse the candle later to hold my makeup brushes or lipsticks or really anything for that matter.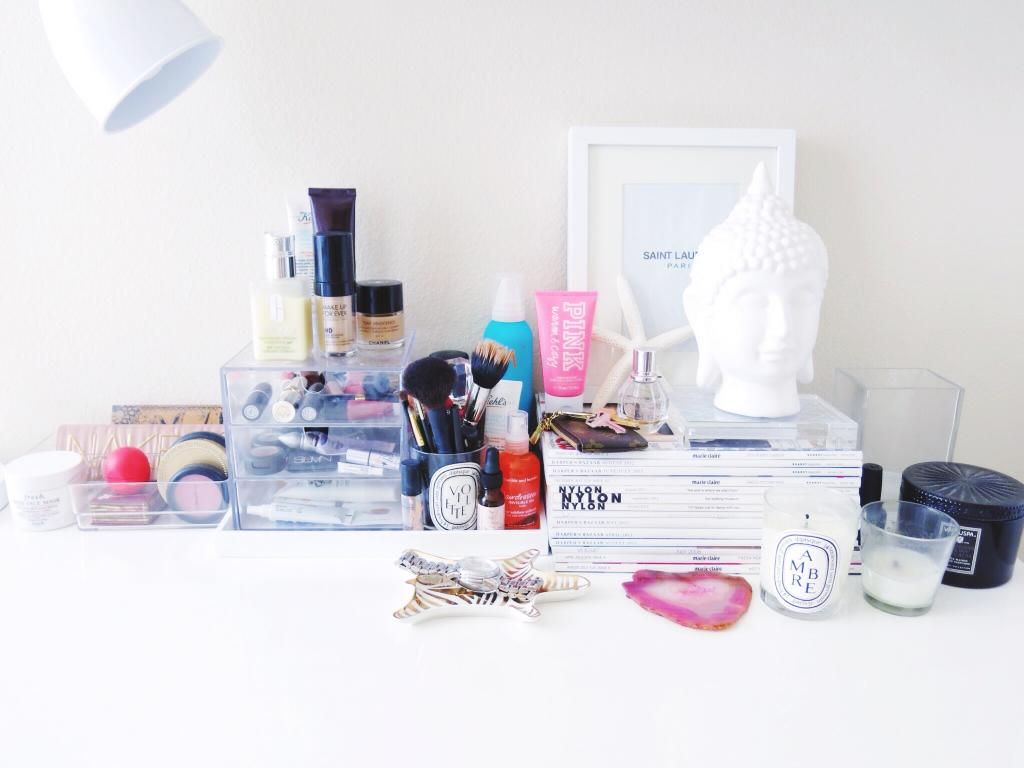 If you are wondering where I got some of the stuff on my desk, I am going to include it below:
Makeup acrylic containers from The Container Store
Candles are by Diptyque and Voluspa
Urban Outfitters Drink Coaster
IKEA White Frame + Flower Vase
Buddha from Marshalls
Here is a quick little video I did for my youtube channel at
seasscaped.
:)