Outfit:
Alexander McQueen Skull Scarf, Rag & Bone T-shirt, Enza Costa Tissue White Jersey Tunic Tank Dress, Beats by Dre Headphones, Stella McCartney Falabella' Tote Bag, Bobby Brown Shimmer Wash Eyeshadow, Jordan Askill April Heart Birthstone Ring, Ray-Ban Aviator Large Metal, Chanel Espadrilles, Diptyque Candle in "Mimosa", Le Labo Santal 33 Eau de Parfum
Favorite outfit of the lot. So Simple and laid back the way California style should be. If you are bored with wearing a t-shirt with denim or skirts try wearing it over a simple slip dress. It gives you a layered effect and the illusion of a put together outfit. If I ever decide to dress in all white I like to make my accessories bright. It adds a cool contrast.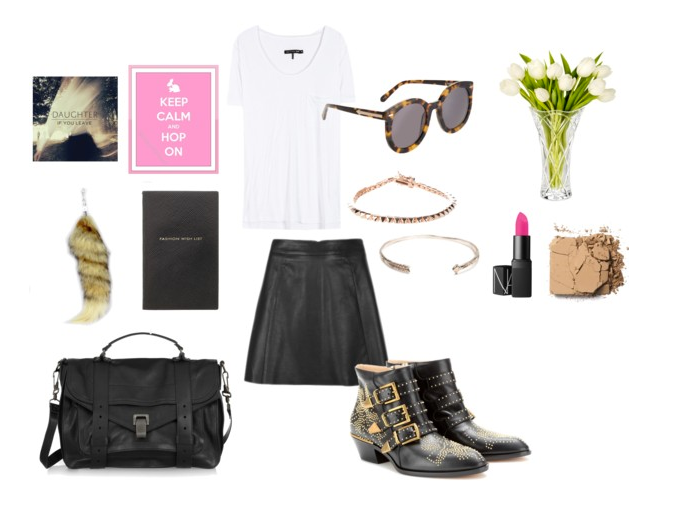 Outfit:
Daughters Album "If You Leave", Rag & Bone T-shirt, Eddie Bargo Small Pyramid Tennis Bracelet, Odette Rose Gold Arrow Cuff, Karen Walker Super Duper Strength Sunglasses in "crazy tortoise", Faux Fur tail Key Chain, SMYTHSON Fashion Wish List Notebook, Proenza Schouler PS1, AllSaints Leather Skirt, Chloe Susanna Boots, Nars Lipstick in "schiap"
This outfit is super basic but still fashion forward. This outfit is as easy as tucking in a white t-shirt into a skirt. You don't always need an extravagant top to wear with a leather skirt. T-shirts get the job done too! I paired this look with Chloe "Susanna" ankle booties. I have always found leather skirts look better with boots than heels or sneakers. Again this outfits color palette is black + white so I brightened up the look with a bright lipstick and printed sunglasses.
Outfit:
Rails Plaid Shirt, Rag & Bone T-shirt, Alexander Wang x Linda Farrow Translucent Sunglasses, ASOS Band rings, Alexander McQueen Razor-blade Key Chain, TopShop Motto Ripped Jeans, Alexander Wang Rocco in "Matte" Hardware, Nars Lipstick, White Converse
My final look is your basic white t-shirt with jeans and a plaid shirt. I like the play on colors on this plaid shirt. It freshness up this look and makes it more wearable for spring+ summer. I added some translucent sunglasses by the Alexander Wang x Linda Farrow collaboration. Sometimes you get sick of wearing black sunglasses... you feel me? Added some white sneakers to add to the comfort level. This is my downtown go to look when I feel like being mysterious for no reason what so ever. We all have those days.